TU Darmstadt and FXPal 2011-2012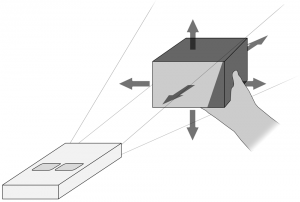 Pico projectors have lately been investigated as mobile display and interaction devices. We propose to use them as 'light beams': Everyday objects sojourning in a beam are turned into dedicated projection surfaces and tangible interaction devices. While this has been explored for large projectors, the affordances of pico projectors are fundamentally different: they have a very small and strictly limited projection ray and can be carried around in a nomadic way during the day. Thus it is unclear how this could be actually leveraged for tangible interaction with physical, real world objects.
This is a joint work between Telecooperation Lab and FX Palo Alto Laboratory (FXPAL).