Research
Our research mission is to contribute to a next generation of user interfaces that seamlessly merge with the physical world and the human body. These interfaces create more effective, expressive, and engaging interactions with interactive systems and devices. Moreover, they are compatible with challenging mobility contexts and integrate well with real-world activities. This opens up a wide range of applications in various fields, including mobile and wearable computing, robotics, smart home, health and fitness devices.
We develop user interface technologies for advanced sensing and displays, invent new concepts for interaction, and empirically study user behavior.
Our focus areas include:
Soft, flexible and stretchable user interfaces
Touch and multi-touch interactions
Body-based user interfaces
Wearable devices, interactive skin and electronic textiles
Mobile computing
Augmented Reality
Haptics
Human-Robot Interaction
Digital fabrication and rapid prototyping
New materials for interaction
Skin-based Interaction
We are developing the foundations for a new generation of user interfaces that seamlessly blend with human skin. Interactive skin is ultra-thin, stretchable, and has a customized geometry. It contains multimodal sensors to capture user input and context. Embedded visual displays and advanced haptic components convey rich and expressive output. This enables its use as highly conformal interactive patches on various body sites, for interaction in challenging mobility tasks, for new types of tactile augmented reality, and for ergonomic physiological interfaces.
Digital Fabrication of Soft Circuits, Sensors and Displays
We contribute new methods for designing and fabricating sensors, displays, and haptic devices that are soft, flexible, or stretchable. This comprises concepts, models, and algorithms for digital design tools that automatically generate low-level fabricable designs based on the designer's high-level specification. Moreover, we develop accessible rapid manufacturing techniques to fabricate functional devices with custom geometry and material properties. These build on digital printing with new materials, printable electronics, and laser manufacturing.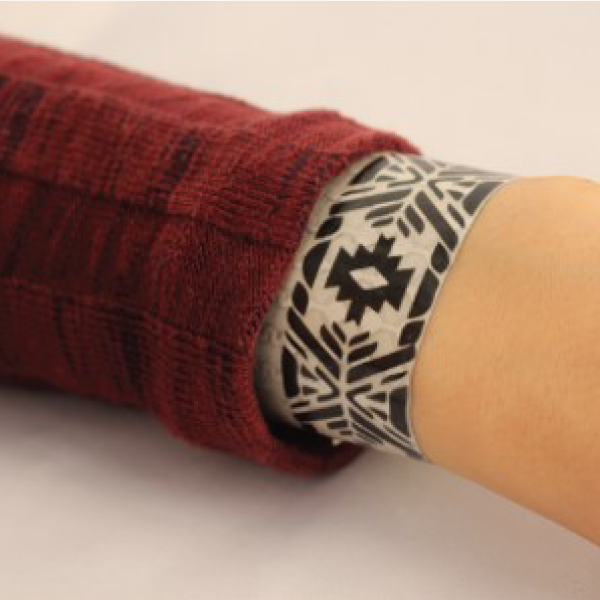 Multi-Touch Skin
Multi-Touch Skin are thin and flexible multi-touch sensors for on-skin input. They enable high-resolution multi-touch input on the body and can be customized in size and shape to fit various locations on the body.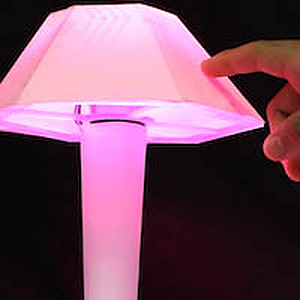 Foldio
Foldio is a new design and fabrication approach for custom interactive objects. The user defines a 3D model and assigns interactive controls; a fold layout containing printable electronics is auto-generated.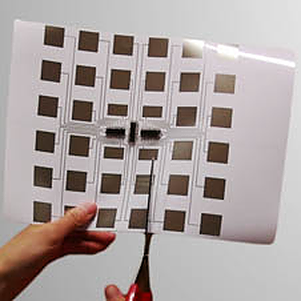 A Cuttable Multi-touch Sensor
In this project, we propose cutting as a novel paradigm for ad-hoc customization of printed electronic components. We contribute a printed capacitive multi-touch sensor, which can be cut by the end-user to modify its size and shape.

Haptic Interfaces
We contribute to the field of haptics with lightweight and ergonomic haptic interfaces and with interfaces that extend the expressive range of haptic interaction. To this end, we develop novel haptic hardware using new materials and digital fabrication, work on haptic rendering, and investigate haptic perception in empirical studies with users.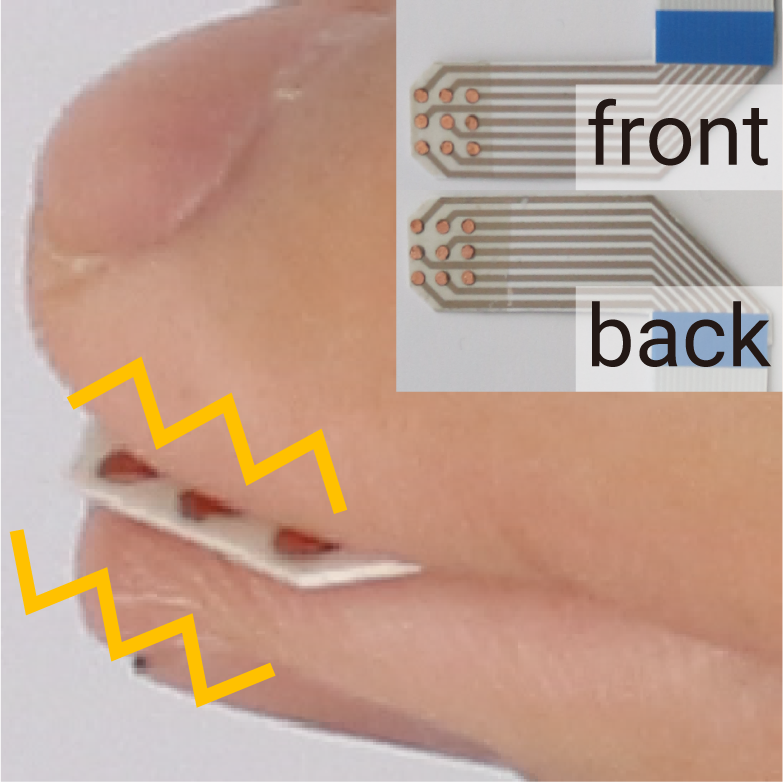 Double-Sided Tactile Interactions
At UIST'23, we propose a double-sided electrotactile device with a thin and fexible form factor to ft within pinched fngerpads, comprising two overlapping 3 × 3 electrode arrays.

Tactlets
We present a novel digital fabrication approach for printing custom, high-resolution controls for electro-tactile output with integrated touch sensing on interactive objects. We call these controls Tactlets.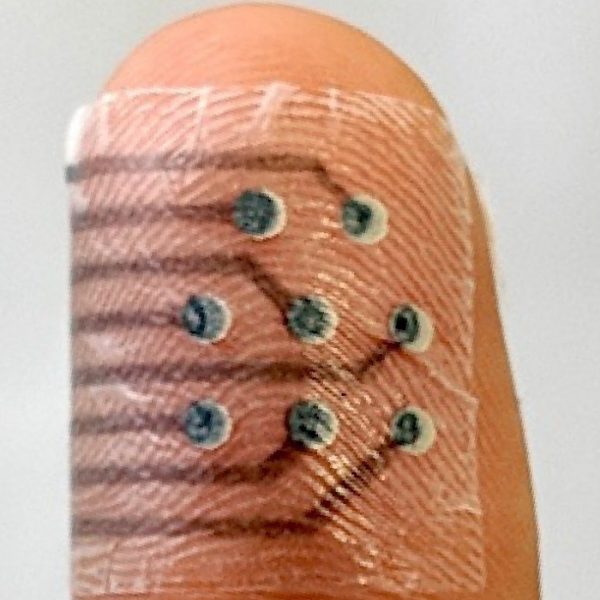 Tacttoo
Tacttoo is a feel-through interface for electro-tactile output on the user's skin. At less than 35μm, it is the thinnest tactile interface for wearable computing to
date.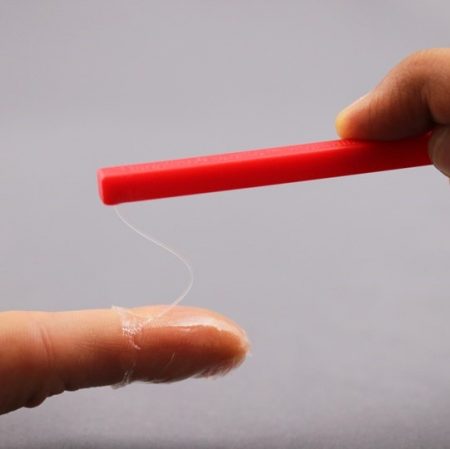 Like a Second Skin
Our work presents psycho-physical findings about how epidermal devices of various elasticity and thickness affect human tactile perception. Findings can guide the design and material selection of future epidermal devices.
Human-Robot Interaction
We contribute to the field of Human-Robot Interaction (HRI) with wearable robotic interfaces. To this end, we develop novel wearable robotic tools, and investigate the interaction between the user and wearable robotic devices in empirical user studies.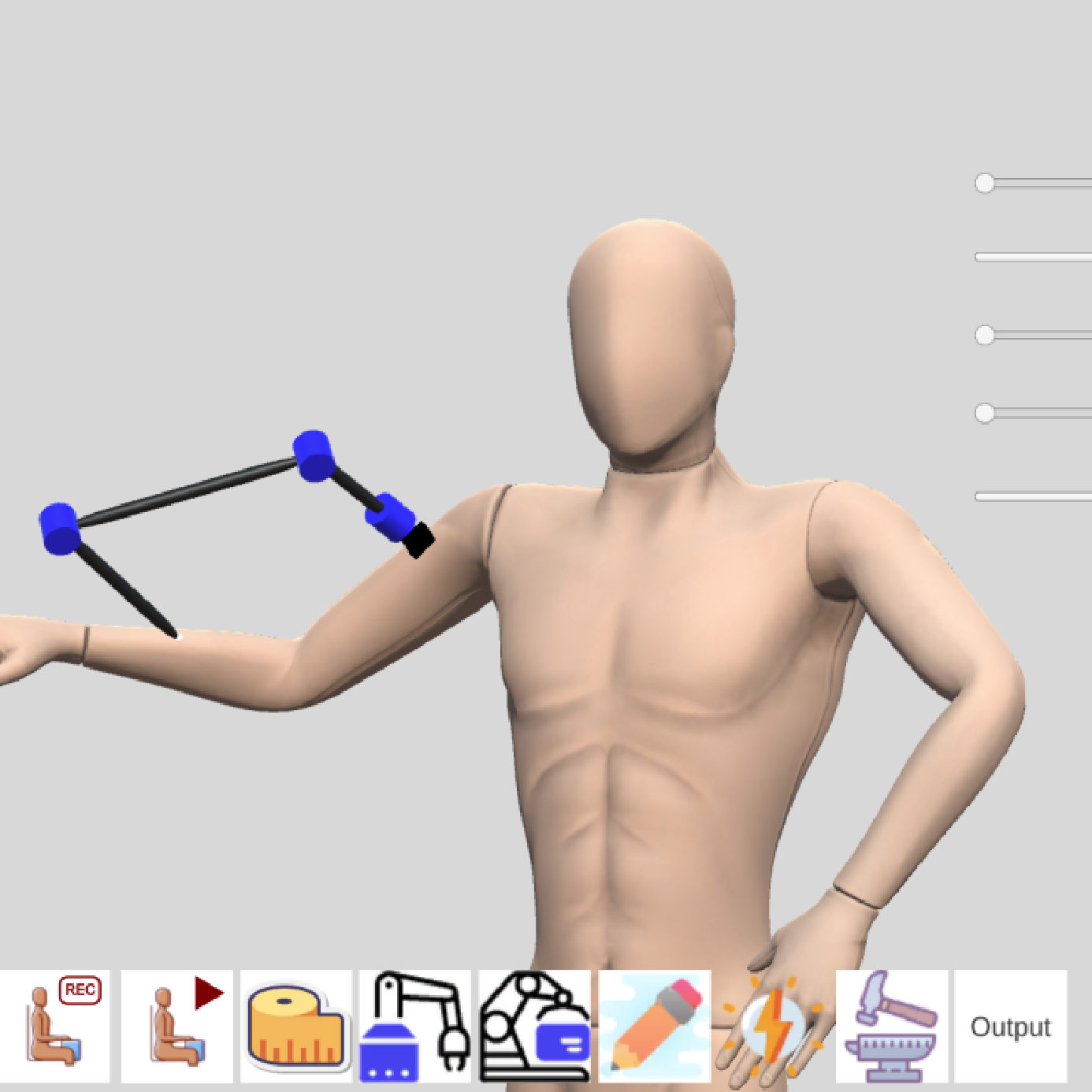 WRLKit
At UIST'23, we present WRLKit, an interactive computational design approach that enables designers to rapidly prototype a personalized WRL without requiring extensive robotics and ergonomics expertise.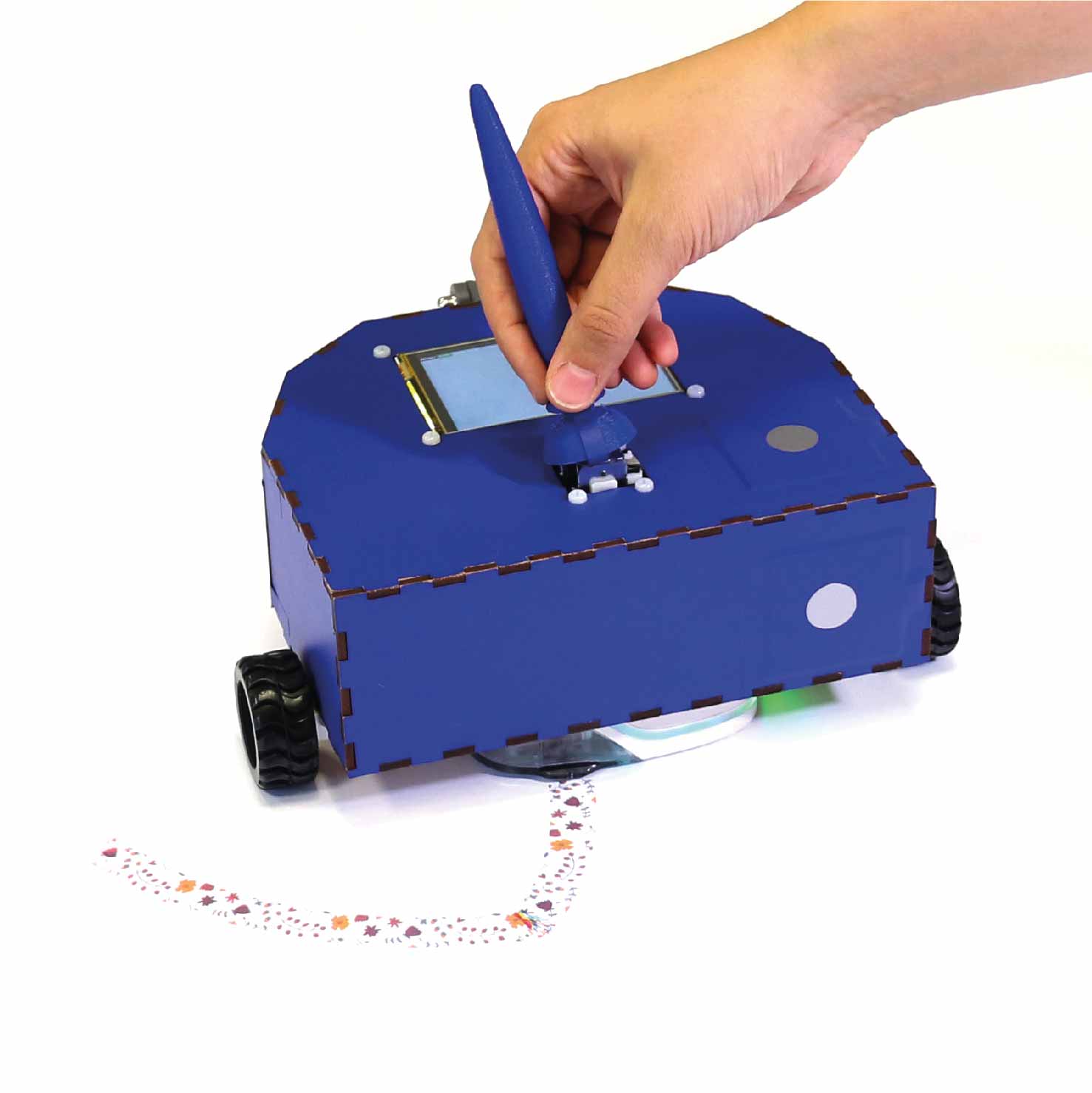 RoboSketch
RoboSketch is a robotic printer on wheels with a joystick controller for manual sketching, capable of creating large-scale, high-resolution prints.
Interactive Textiles
We investigate electronic textiles as a platform for wearable human-computer interaction. We develop interaction techniques that leverage intrinsic textile properties. Our work further contributes textile sensors and novel approaches for the rapid design and fabrication of customized e-textiles.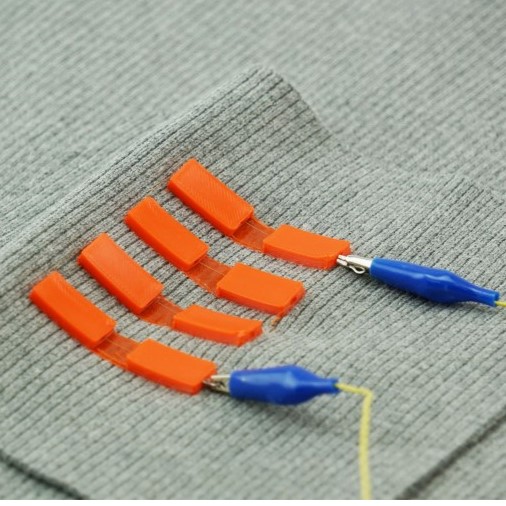 ClothTiles
ClothTiles presents a prototyping platform to fabricate actuators of clothing. ClothTiles leverage flexible 3D-printing and Shape-Memory Alloys (SMAs) alongside new parametric actuation designs.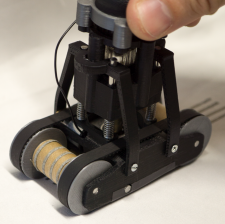 Rapid Iron-On User Interfaces
Rapid Iron-On User Interfaces support rapid fabrication in a sketching-like fashion, through handheld dispenser tool for directly applying continuous functional tapes of desired length.
Micro Gestural Interfaces
Leveraging the high dexterity of the human hands and fingers, we develop microgestures that allow users to control interactive systems in mobile or hands-busy settings, in a direct, rapid and subtle manner.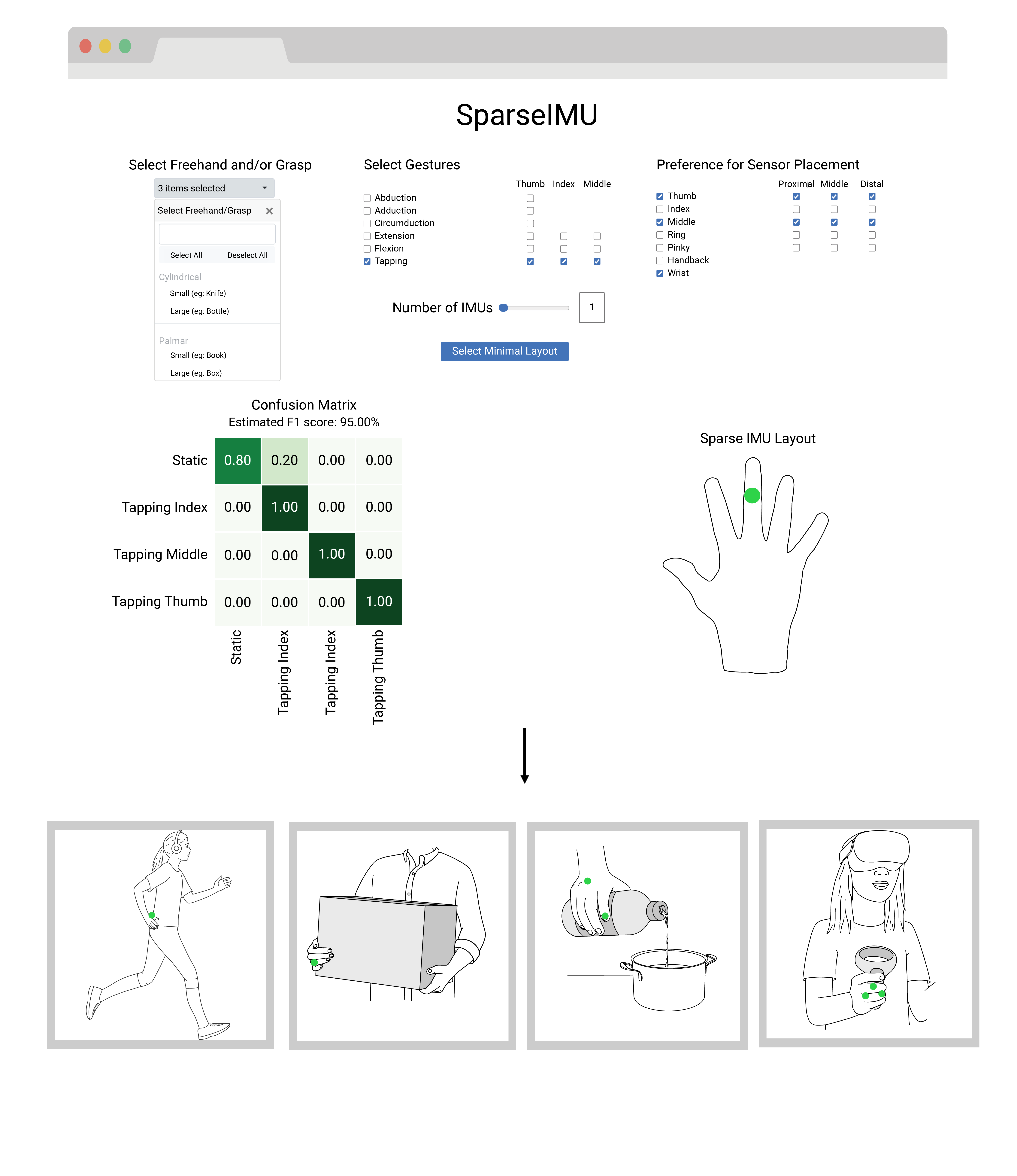 SparseIMU
Computational design approach to recognize the desired set of freehand and/or grasping microgestures with minimal hand instrumentation. We also performed a series of analyses, including an evaluation of the entire combinatorial space (393K sensor layouts) and quantified the performance across different layout choices.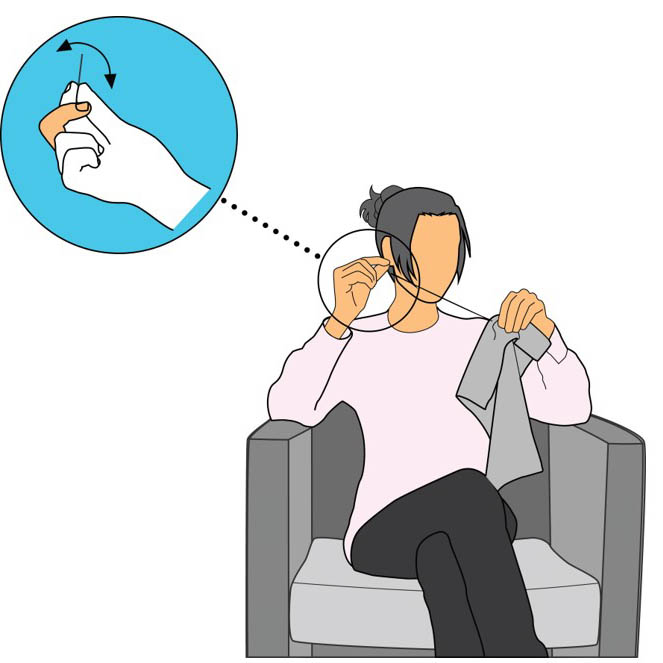 Grasping Microgestures
Our work informs gestural interaction with computer systems while hands are busy holding everyday objects. We present results from the first empirical analysis of over 2,400 microgestures performed by end-users.
Functional 3D Printing
We contribute design tools and fabrication approaches for realizing interactive 3D objects. Moving beyond conventional 3D printing, these objects contain functional electronic components that are printed using multiple functional materials — in many cases even in a single pass along with the object itself. This realizes interactive objects of organic geometries that can sense touch and deformation, provide visual and haptic output, or change their shape.
Tactlets
We present a novel digital fabrication approach for printing custom, high-resolution controls for electro-tactile output with integrated touch sensing on interactive objects. We call these controls Tactlets.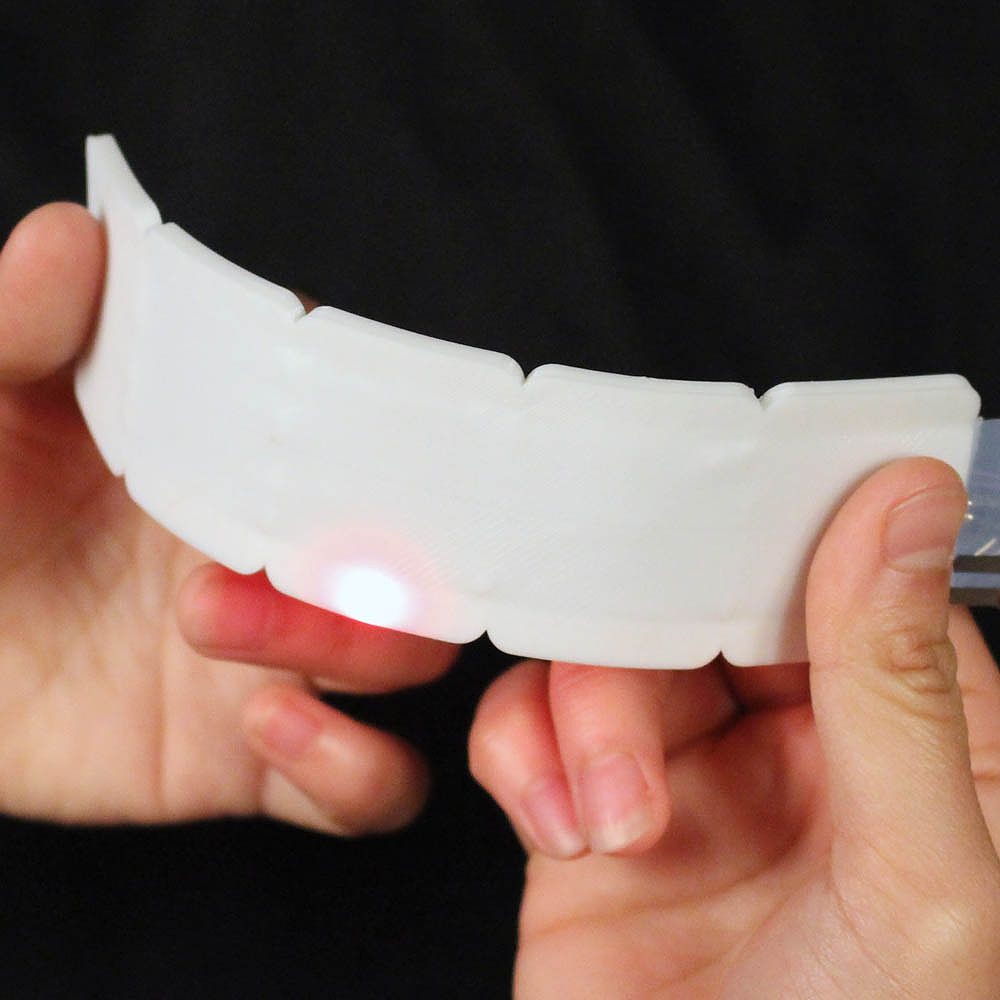 HotFlex
HotFlex leverages printed embedded elements, capable of computer-controlled state change, to enable hands-on remodeling, personalization, and customization of a 3D-printed object after it is printed.
Flexible and Shape-Changing Displays
We investigate new types of displays that are deformable or even actively change shape. We contribute new interactive technologies for flexible and shape-changing displays using visual computing and soft robotics, and we develop novel tangible interaction techniques that leverage the geometry of the display.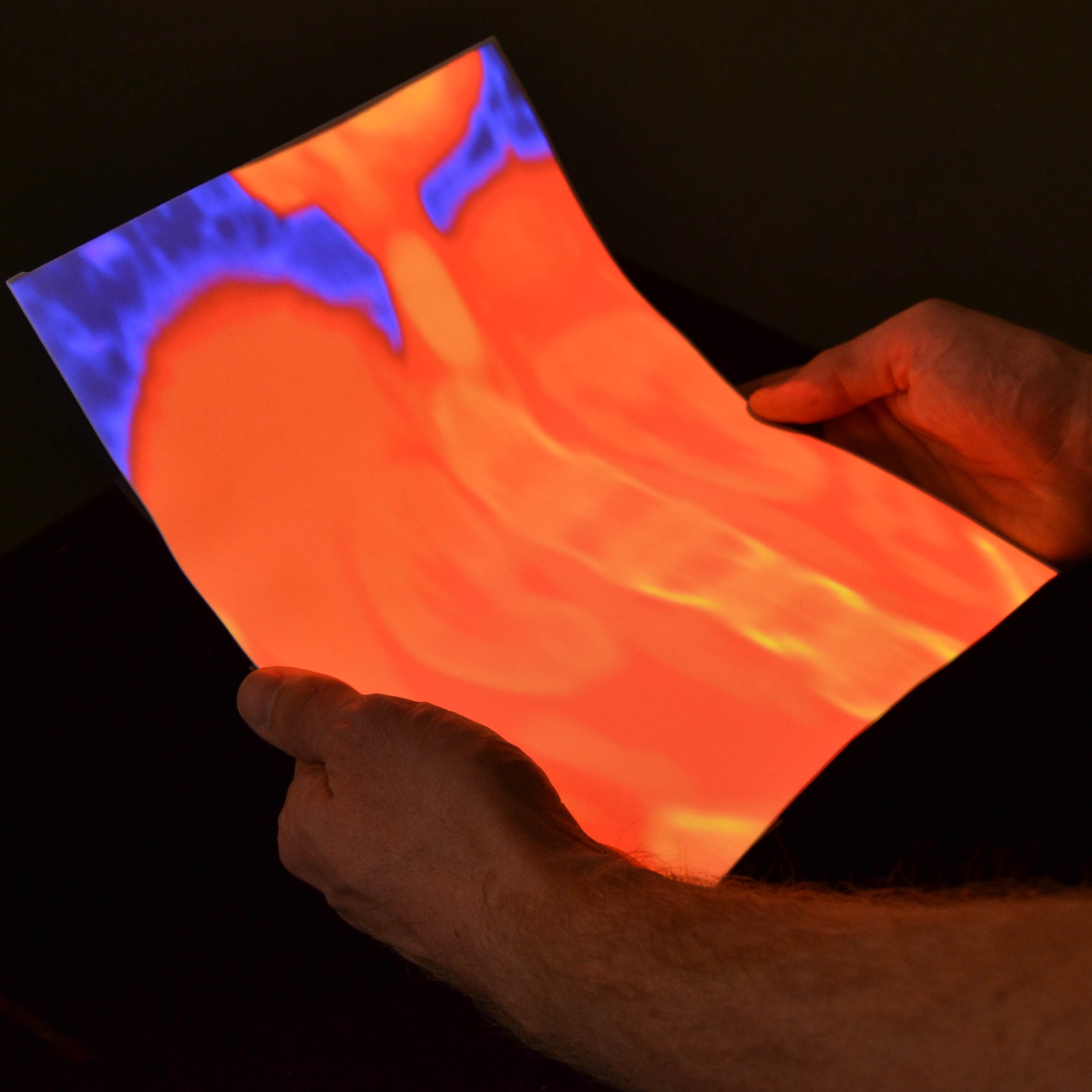 Flexpad
Flexpad is an interactive system that combines a depth camera and a projector to transform sheets of plain paper or foam into flexible, highly deformable and spatially aware handheld displays.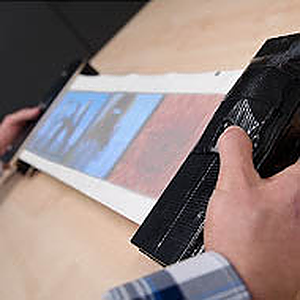 Xpaaand
Future generations of displays will be thin, lighweight, and flexible. In this project, we develop novel interaction techniques for displays which can be dynamically expanded and collapsed.
Interactive Paper, Spatial Displays and Tabletops
Established practices of interacting with physical media have proven to be very powerful, as they make intelligent use of space and draw on expressive tangible manipulation. Many of these advantages are lost in current graphical user interfaces. Our goal is to develop novel embodied interfaces for digital media that seamlessly combine the power of physical interaction with the benefits of computer technology. We do so by leveraging new types of physical and spatial displays and introducing novel interaction techniques, both for individual and collaborative work.
Our research projects receive funding from: European Research Council (ERC Starting Grant "InteractiveSkin"), Deutsche Forschungsgemeinschaft (DFG), Bosch Research, Google, and the State of Saarland.